Newborn Photography Wandsworth
" Elle is a baby whisperer! She was able to capture the most beautiful pictures of our little boy at only 13 days old. She came to our house and made our little one (and us) feel very comfortable. We are so happy with all of the photos!"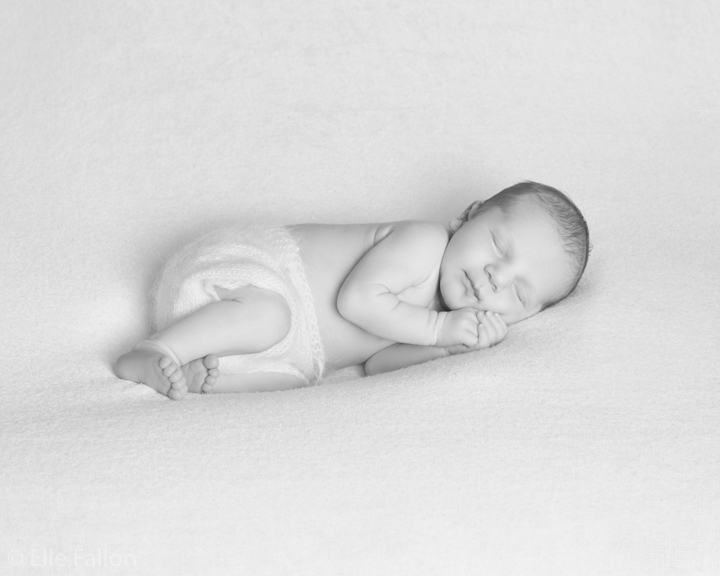 I'm always grateful to receive feedback from the families I photograph, it means so much. I have chosen just one picture from this lovely newborn photography session in Wandsworth. It is a peaceful picture of this beautiful 13-week old baby. I love the simplicity of my black and white newborn pictures. His little hands clasped gently together and the tiny contented smile starting to appear. What is he dreaming about?!
Baby Whisperer
One of the biggest compliments I receive from my Client's is the title 'baby whisperer'. This phrase or title seems to hold some kind of magic but truly most of the work is done by the new parents. Trusting me and keeping calm during the photoshoot all help to create the perfect atmosphere for a newborn photo shoot. A big part of making this magic happen is also the photoshoot taking place in your own home. The home is the perfect warm, safe and peaceful environment for both parents and their new baby.
Before each session, I send a few helpful tips to prepare. Throughout the session I encourage lots of breaks for feeding and cuddling, ensuring your little one is cosy and happy.
This is the most enjoyable part of my work. I love spending time with newborn babies. I honestly can't imagine a more magical time to photograph a family. In my opinion, this is one of the most important moments in life that just has to be recorded. The newborn stage is all too fleeting for us parents and I love to think I have in some way frozen part of it in time.