Newborn Twin Photography …
Photographing newborn twin's is a truly magical experience. For a newborn photographer, it is one of the biggest joys and I am lucky to have photographed many sets of twins over the years. Working with twins is very different from a single newborn session. Both require experience but it is important to be prepared and to know how to position them safely together.
It takes time to achieve these shots, sometimes one is settled and the other one not and so on. But with a little patience, tenderness and a calming atmosphere, we get there eventually and the results are worth the wait. Two beautiful little babies curled up sweetly together.
Featured picture …
These two were photographed at their home in Kensington London at just two weeks new! I have many favourite shots from this session and it was hard to choose just one for my post today!
My style of newborn photography is very natural and classic. What I love about this shot is that there are no distractions, just a gentle white backdrop and the two of them sleeping peacefully. Mum chose a soft grey outfit for the baby boy and a soft white outfit baby girl. I have a suitcase of freshly washed handmade baby outfits that I bring to each session. You can see some of the other outfits on my Instagram page
Although I have plenty of sweet hats and headbands I do believe that simple is best. I like to focus on the beauty of each newborn, elegant shots that create a lasting memory of this precious fleeting time. The outfits I have chosen are soft and gentle enough not to hide their delicate features.
Timing of a newborn photoshoot …
I understand how private and precious those first few weeks after birth are and I am sensitive to new parents and siblings. I try to respond to how everyone is on the day. Appreciating that everything is very new, that the night may have been sleepless and that they are still getting to know their new arrival or arrival's! I take time to get to know the family I am working with. Working tirelessly to ensure the atmosphere is calm and relaxed throughout the photoshoot.
I also make sure that the selection process is easy and straight forward. To help as much as I can I offer a complimentary viewing appointment again in the privacy of your own home to help with choices and product selection.
A newborn twin photoshoot takes approximately three hours. Sometimes more sometimes less! I am very flexible and I don't really like to put a timescale on my session's. I just know when all the shots have been achieved and everyone is happy. It sometimes requires more time sometimes less. It is very difficult to put a timescale on a newborn baby! I prefer to follow how they are responding on the day.
This week I returned to photograph these beautiful twins again! This time as a family photoshoot with Mum, Dad, and their beautiful older sister. It was a real treat to see them all again, now at that gorgeous cute 3month baby stage but still perfectly small just with cute cheeky baby smiles which were a delight to photograph!
Newborn Twin Photography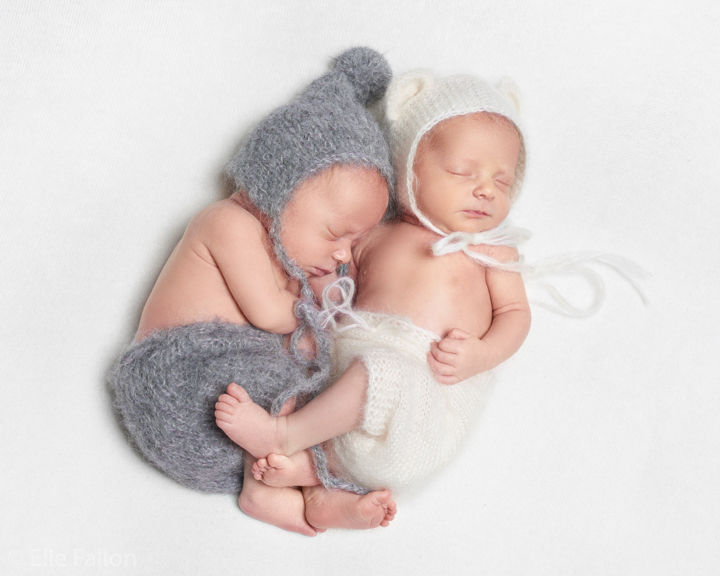 For booking and further information please contact me via my booking page